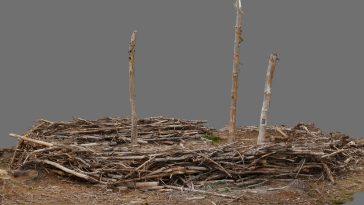 Alexandra Crouwers, The Plot/Three Trees, photogrammetric scan, May, 2021.
The plot, the compositor, and mourning/mistakes is an online peer-reviewed publication in the format of the Research Catalogue by LGC-fellow Alexandra Crouwers for VIS Nordic Journal for Artistic Research. In the Summer of 2019, a small family forest fell victim to a spruce bark beetle plague. Unusually mild winters caused larvae numbers to explode, and extreme drought weakened the otherwise more resilient trees. Expanding patches of dead forest can be found from the North Sea coast to the Baltics. The cleared forest became The Plot: a witness to climate change, and a gateway to dealing with ecological grief. My own eco-anxiety is utilized as a case study: how to deal with this new kind of loss? What is The Plot telling us? How do we move forward without losing hope? The exposition presents The Plot as fertile ground for artistic and collaborative research, including a contribution by Lisa Jeannin, a custom made font, moving image, and an audio work.
Alexandra Crouwers is a visual artist working in the digital realm, and currently a doctoral artistic researcher in animation at KU Leuven/LUCA School of Arts, Brussels. She lives and works in Antwerp, Belgium.