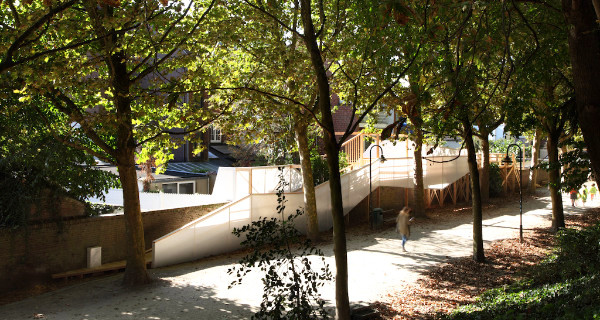 © Adrien Tirtiaux, Boven de Muur, installation view Tracing the Future (Leuven, 2016)
Adrien Tirtiaux, Wouter Hillaert & Thomas Decreus
MSI 00.08.
Msgr. Sencie Instituut
Erasmusplein 2
3000 Leuven
The artist Adrien Tirtiaux created his work "Boven de Muur" especially for the art itinerary of Tracing the Future. His art installation arises many interesting questions. To what extent are we willing to render private property open to the public? To what extent would we divide private property into common goods? Could we reach an ideal community by abandoning our individualistic way of dwelling, as described in More's Utopia, or would this engender a reversed effect? Adrien Tirtiaux, Wouter Hillaert and Thomas Decreus will engage in a discussion with this subject matter.
ADRIEN TIRTIAUX (°1980, Brussels) will provide a text and a further explanations on the conceptualisation and realisation of "Boven de Muur" as well as older projects.
WOUTER HILLAERT (chief editor of rekto:verso, theatre critic for De Standaard, and spokesman of Hart boven Hard) will contextualize Tirtiaux's work within the current social, political and cultural climate.
THOMAS DECREUS (author of "Een paradijs waait uit de storm", co-author of "Dit is Morgen" and editorial coordinator of DeWereldMorgen.be) will moderate the public debate.
Admission is free and without reservation.
Organized by Lieven Gevaert Research Centre for Photography and M Museum Leuven.