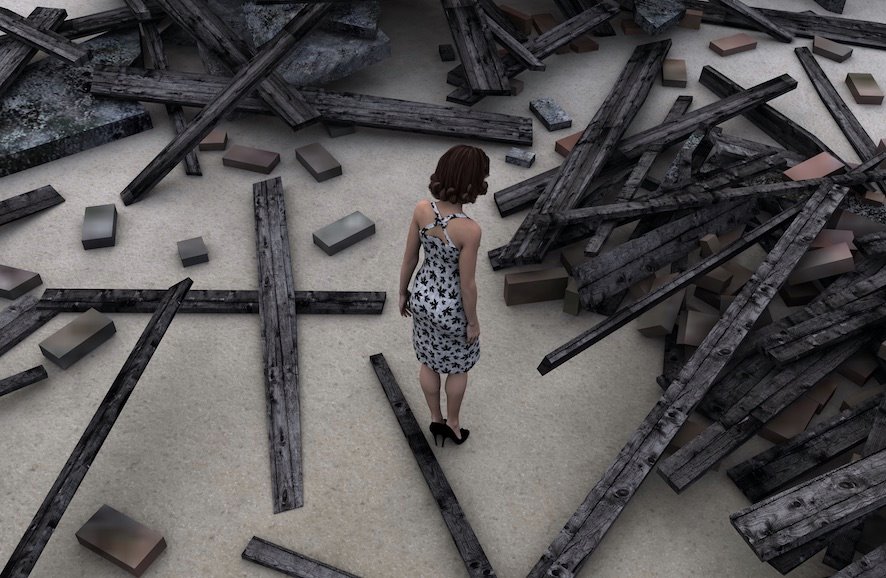 Introduction by Alexander Streitberger
-
Opening hours: Tue-Fri: 11:00-18:00 / Sat 12:00-18:00
Galerie Thomas Zander
Schönhauser Str. 8
D-50968 Köln
Galerie Thomas Zander is delighted to present an exhibition of works by the British artist Victor Burgin. Combining conceptual rigour with poetic ambiguity, the exhibition explores relations between space, memory and desire and shows Burgin's historical progression from photography, to video, to computer modelling.
"Some Cities" is the title of a 1996 book by Burgin in which the artist recalls some of the cities he has known by showing photographs and telling anecdotes, yet moving beyond the anecdotal into an inquiry about spaces, places and memory.
The current exhibition begins with three groups of photographs from this book, the earliest of which date from 1974, and which are exhibited here for the first time. These works represent a first phase of Burgin's use of the camera, in which he drew upon the genre of 35mm black and white 'street photography' to approach the subject of the city. The opening lines of his book make clear that Burgin is investigating the intersections of public and private: "Our relations with cities are like our relations with people. We love them, hate them, or are indifferent toward them. On our first day in a city that is new to us, we go looking for the city. We go down this street, around that corner. We are aware of the faces of passers-by. But the city eludes us, and we become uncertain whether we are looking for a city, or for a person." In a second phase, represented in this exhibition by the installation Love "Stories #2" (1996), Burgin recasts the relation of his camera to the street in terms of video, exploring the elements of sound and movement, silence and fixity. Three video monitors on white plinths show loops of anonymous individuals moving through public space in slow motion. The footage is interspersed with screens filled with solid colour—red, green and blue—the component 'RGB' colours of a video signal, reflecting the conditions of its medium. The colour screens are accompanied by the voices of female protagonists of classic Hollywood movies speaking about projected desires and images in family and love relationships. The installation's minimalist architecture acts as a framework to contain the random relationships that occur between the three unsynchronised video loops. The point of departure of Burgin's work "The Ideal City" (2014), in which both camera and urban space exist only in the virtual space of 3D computer modeling, is his recollection of a group of paintings, and of Michelangelo Antonioni's film "La Notte" (1961). Burgin notes that films are fragmented and transformed in memory, much like cities, and used his memory of a short scene from the film in which the female protagonist walks alone and with no apparent purpose along a succession of facades in the streets of Milan that are reflective of her inner state. He associated the clip and the spaces it shows with a trio of Quattrocento paintings today known collectively as "The Ideal City", now in museums in Urbino, Baltimore and Berlin. The authorship of the paintings is uncertain, as is their purpose. It cannot be decided whether the images were intended as paintings in their own right, whether they should be understood as illustrations of an architectural thesis, or whether they are designs for theatrical scenery. Burgin merges these two references in a projection, two large scale prints and a text. The psychoanalytical question of desire for an idealised absent object again plays into a quest for a (re-) construction of the past. Be it in family or love relationships, in relations to places, images or texts - one's relationships to the world is what produces meaning and forms one's identity.
Since the late 1960s Victor Burgin's work has established him as both a pioneering conceptual artist and an influential cultural theorist of the still and moving image. Born in Sheffield in 1941, Burgin became widely known for his conceptual photo/text works, which have often been discussed in the context of the Art & Language movement. He was nominated for the Turner Prize in 1986. In his extensive writings, he situates his work within a semiotic, historical, and psychological context. Burgin is Professor Emeritus of History of Consciousness at the University of California, Santa Cruz, and Emeritus Millard Chair of Fine Art at Goldsmiths College, University of London. His work has been the subject of numerous international exhibitions and is represented in public collections that include the Metropolitan Museum of Art and the Museum of Modern Art in New York, Los Angeles County Museum of Art, San Francisco Museum of Modern Art, The Tate Modern, London, Museum Ludwig, Cologne, and the Centre Pompidou, Paris.
Please contact the gallery for further information and press images.
02/08/2017 (16:00): Opening reception. The artist will be present.
Special opening hours during Düsseldorf Cologne Open Galleries 2017:
08/09/2017 (18:00-22:00)
09/09/2017 (12:00-18:00)
10/09/2017 (12:00-18:00)