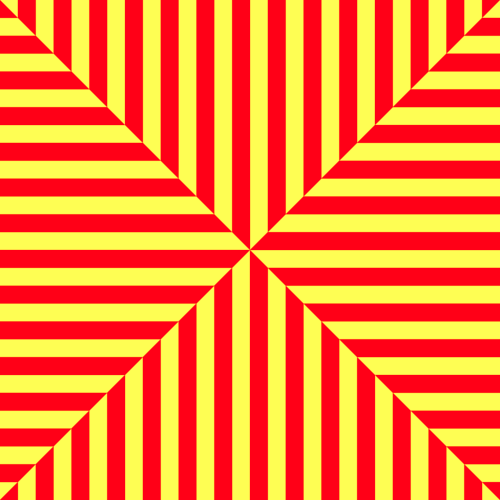 Stefanie De Winter
Bilderdijklaan 10
5611 NH Eindhoven
The Netherlands
The study 'Tracking Frank Stella' builds bridges between (the theory of) art and science. On Sunday 10 March an interdisciplinary group of art theorists, psychologists and artists who are exploring the possibilities and insights of this study will come together at a symposium. Professor Ignace Hooge (University of Utrecht)) will discuss the possibilities of eye tracking for understanding the perception of art. Stefanie De Winter (KU Leuven) will explore the aim and first results of the research. Dr. Rebecca Uchill (MIT) will speak about the social context of the perception of color. Steven ten Thije (the curator of the Van Abbemuseum collections) places the study in the context of research into demodernisation, taking a new look at classical modern art. The artists Roland Schimmel and Regine Shumann will conclude the day by reflecting on the research and on their own artistic practice.
SPEAKERS
Ignace Hooge gained his doctorate in 1996 with a thesis on visual searching and eye movements. Since 2001 he has worked on psychological function theory (University of Utrecht). He is interested in the relationship between eye movements and visual perception, marketing research, social interaction, interfaces and the application of psychology in everyday life. Ignace also does a lot of research to improve the techniques used in measuring eye movements. In addition he is passionate about education. He is the programme coordinator for the master's degree in Applied Cognitive Psychology, and was named lecturer of the year at his university in 2015.
Stefanie De Winter studied the conservation of paintings at the Royal Academy of Antwerp, where she focused on conservation problems related to fluorescent paint layers. After a stint as a curator in NYC, where she worked on contemporary American paintings (mostly Frank Stella), she went on to gain a master's degree in Art History at KU Leuven, focusing on fluorescent colors in the work of Richard Bowman (1918-2001), Herbert Aach (1923-1985) and Frank Stella (1936°). She is currently a FWO PhD fellow in Art History, conducting research on the impact of fluorescent materials in New York art of the 60s and 70s. This project is interdisciplinary in that it combines methods and experiments from perceptual psychology, material analysis and art history.​
Rebecca Uchill is an art historian and curator whose work focuses on the institutional conditions for art production, display and dissemination. Before coming to UMassD, she was Mellon Postdoctoral Fellow with the Center for Art, Science & Technology at MIT, where she co-convened BEING MATERIAL, the second CAST symposium. Uchill was co-editor, with Caroline A. Jones and David Mather, of the first CAST publication, Experience: Culture, Cognition, and the Common Sense (MIT Press, 2016), and she was also the curator of its many multi-sensorial artist entries. At MIT, she collaboratively developed the field-work-intensive graduate seminar, Landscape Experience. Uchill was recently appointed Web Editor of Art Journal Open, the online platform of the College Art Association's Art Journal. She has taught courses at MIT and Tufts University/The School of the Museum of Fine Arts, and organized workshops at Harvard University, Mildred's Lane, and other venues.
Steven ten Thije is a curator of the Van Abbemuseum collections. Recently he organized the exhibition, The Making of Modern Art (Van Abbemuseum, 2017 - 2021) together with Christiane Berndes, Charles Esche, Loes Janssen and The Museum of American Art, Berlin. In 2016 he published the essay Het geëmancipeerde museum (The emancipated museum), commissioned by the Mondrian Foundation. For the last five years he has been the project leader for The Uses of Art – The Legacy of 1848 and 1989, a five-year programme of L'Internationale – a federation of six European museums focusing on modern and contemporary culture. In the context of this programme he was also the co-editor of the anthology What's the Use? Constellations of Art, History and Knowledge (Valiz, 2016) and he was also the co-curator of the exhibition Confessions of the Imperfect, 1848 – 1989 – today.
Roland Schimmel is an artist based in the Netherlands. Afterimages and halos play a major role in his paintings, computer animations and wall paintings. Perceiving these transient and hallucinatory phenomena in his work appears to be an experience which is as interactive and virtual as the effects of digital technology, though his focus is directed on organic and physical qualities like memory, exhaustion and regeneration: the innate capacities of the body to restore and maintain an ever-changing balance with the environment; relational qualities that are relevant to these visual phenomena. His solo exhibitions include SCHUNCK (2016), The Van Abbemuseum (2014 and 2012), Museum Boijmans van Beuningen (2006); group exhibitions include those at Centraal Museum (2018 and 2016), De Appel Art Centre (2015) and The Stedelijk Museum (2008). He teaches courses on multisensory perception at the Minerva Academy and the Frank Mohr Institute in Groningen.
Regine Schumann is an artist based in Cologne. In her work she focuses on light effects caused by fluorescent materials. Some of the materials she uses are colored polylight-cords and different colored acrylic panels, which she composes in complex color spaces in accordance with Goethe's theory of colors. The artist also uses black light to complement the other colors. She studied fine art at the Hochschule für Bildende Künste Braunschweig from 1982 to 1989. In 1989 she was accepted to do a master's degree with Roland Dörfler. From 1986 to 1994 she was a member of the Freiraum group of artists with Frank Fuhrmann and Dieter Hinz. In addition to numerous scholarships (including a DAAD-scholarship for Italy in 1990 and a grant from the state of North Rhine-Westphalia for Japan in 2000) and contracts for public art, she was awarded the Leo Breuer Prize in 2006.