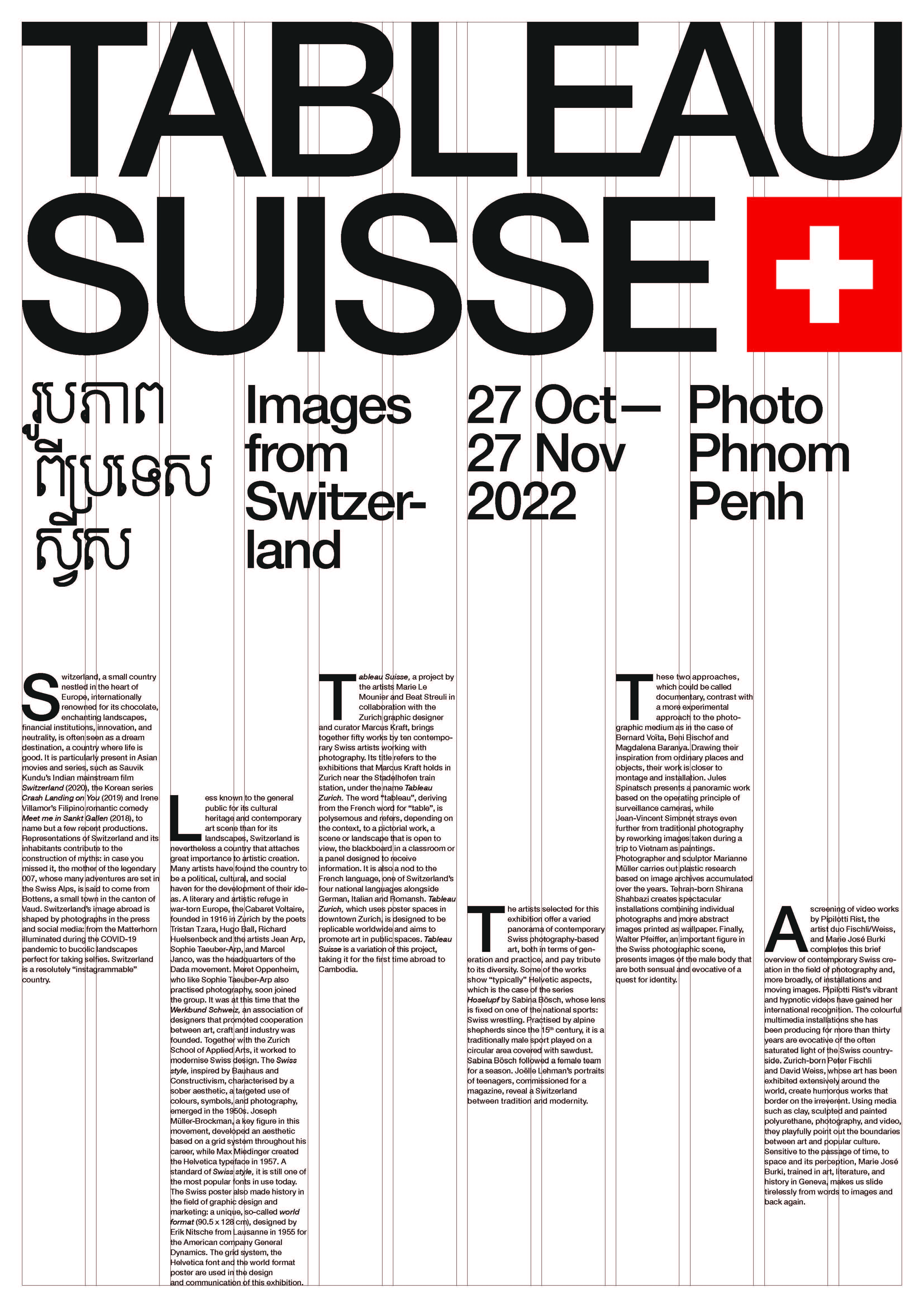 Work by Magdalena Baranya, Beni Bischof, Sabina Bösch, Joëlle Lehmann, Marianne Müller, Walter Pfeiffer, Shirana Shahbazi, Jules Spinatsch, Jean-Vincent Simonet, Bernard Voïta. Film screening : Marie José Burki, Fischli/Weiss, Pipilotti Rist.
-
F3 - Friends Futures Factory - Phnom Penh
Phnom Penh Photo Festival
Tableau Suisse, a project by the artists Marie Le Mounier and Beat Streuli in collaboration with the Zurich graphic designer and curator Marcus Kraft, brings together fifty works by ten contemporary Swiss artists working with photography. Its title refers to the exhibitions that Marcus Kraft holds in Zurich near the Stadelhofen train station, under the name Tableau. The word "tableau", deriving from the French word for "table", is polysemous and refers, depending on the context, to a pictorial work, a scene or landscape that is open to view, the blackboard in a classroom or a panel designed to receive information. It is also a nod to the French language, one of Switzerland's four national languages alongside German, Italian and Romansh. Tableau, which uses poster spaces in downtown Zurich, is designed to be replicable worldwide and aims to promote art in public spaces. Tableau Suisse is a variation of this project, taking it for the first time abroad to Cambodia. A screening of video works by Pipilotti Rist, the artist duo Fischli/Weiss, and Marie-José Burki completes this brief overview of contemporary Swiss creation in the field of photography and, more broadly, of installations and moving images.
Curated by Marie Le Mounier and Beat Streuli in collaboration with Marcus Kraft